This post is a part of the
'Shave or Crave'
movement in association with
BlogAdda.com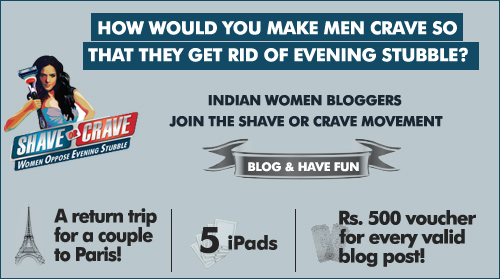 Few call it mid-age crisis, some name it 7 years itch. But Mr. & Mrs Joshi has already spent their life together while crossing three times this seven-year itch. A complacent life engulfed in their comfort zone. Now, sometimes they can even guess in advance what their spouse is going to say!
Mr. Joshi comes back home with an elated expression one day. Mrs. Joshi figured out his happiness by his soft humming of bollywood song. Mr. Joshi started, 'You know, I received an email invitation for our college reunion.'
Mrs.: Wow, that is so great! When it is slotted, I hope it doesn't coincides with our visit to our son in Australia.
Mr: It is scheduled on this Sunday. Wouldn't it be awesome to meet up with our old pals.
Mrs.: Ohhh yes, I need to look best. I am dying to see how our batch mates look now after almost 3 decades. I want to see all those three butterflies of that over rated stylo - gang with white streaks in their hair.
Mr.: Arre, one of them, that Suchi had a huge crush on me.
Mrs.: Ohh that's fine. She was anyway so air- headed . How can you forget my fan following! Almost all guys of your group wanted to date me.
Mr: (Trying to put up a brave face).....Ahh that was so many years back. I am sure everybody is well settled with their kids now.
Mrs.: But still I want to look best.
Mr.: ( thinking in his mind) Whatever! who is gonna flirt with a half -centurion lady!
But Mr. Joshi was so wrong. That day, Mrs. Joshi took extra time & care to groom herself. Contrary to that Mr. Joshi just managed to slip in his Balck tux which Mrs. Joshi got altered.
His evening stubble was gleaming with dots of white beard. But, he was not able to drag himself out of laziness on this December evening. Thoughts of shaving errrrr contact with cold water pricked the balloon of his remaining zeal to manage a clean shaven look.
As they entered the venue, Mr. Joshi felt his spouse almost zipped back through time-machine and looked like a twenty something who was undoubtedly, show-stopper of the day. She was indeed cynosure of all eyes with her stunning appearance.
Soon, all the guys errr men of their old group were found openly flirting with Mrs. Joshi. Time & age has aided them to fulfil their dormant wish in a very non-offensive way. Even, Mrs Joshi was enjoying the attention. Mr. Joshi obviously looked quite pale and lustre less. He has never thought that he would feel so much craving to gather attention from his wife and that after so many years of marriage.
He sneaked out of the party. After sometime, Mrs. Joshi realized his absence. After unable to contact him by phone, she started searching him frantically. Somehow, feeling of guilt crept in her mind.
Suddenly, she spotted Mr. Joshi entering through the main gate. Ohh man, he went for a shave! He looked really presentable with black tux, gelled hair, matured confidence & shaven look. With a wink in his eyes Mr Joshi approached her. He extended his hand alongwith a victorious smile to her and asked her for the couple dance.
Mrs. Joshi blushed & moved forward to dance with love of her life.